About Nathan
Hi, my name is Nathan Winship. First off, I am a born again Christian thanks to the grace of the Almighty God and my faith in Jesus Christ. I am married to my wonderful wife Sara, and we have two children (Madison 4 years old and Michael 2). I have been a certified gunsmith through American Gun-smithing Institute and firearms dealer since September, 2005 when I opened Pineywoods Gun Shop, LLC. Pineywoods Gun Shop, LLC is a business which I had dreamed of for many years and that God allowed to become reality. My goal with this business (with it being located so close to my home) is to allow me the much needed time to spend with my family while being able to support my family financially and having an enjoyable time doing so. Though this may not be in the very near future, it gives me something to look forward to. Other certifications include Concealed Handgun License Instructor and NRA Pistol Instructor. I am a graduate from the East Texas Police Academy and have been employed (and honorably serve) as a Patrol Officer for the Jacksonville Police Department since July, 2008.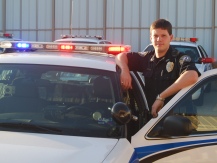 I have also been in carpentry and remodeling for several years. We are living in a house right now that needs a little help in this area and it is great to have the knowledge and skills which allow me to take care of problems or needed updates to the house without having to call someone else.
My Hobbies include Amateur (Ham) Radio, hunting, fishing, and pretty-much anything else that is legal, fun, and unfortunately costly. I have been a licensed Amateur Radio Operator since September, 1993 and have enjoyed every minute of it. I hold active memberships in the National Rifle Association, Amateur Radio Relay League, Cherokee County Amateur Radio Club, Amateur Radio Emergency Service, and the list could go on.
If you would like to learn more about any of the hobbies, organizations, or projects that I am working on which are listed above or not directly related to Pineywoods Gun Shop, LLC; please check out my personal web site which you can find by clicking here (under constructoin).